We are living in a century of farewells to many reliable, traditional methods of living. The U.S. Postal Service is slowly becoming defunct as e-mail, text messaging and social media take its place with unsurpassed speed & convenience. Cinemas are suffering because of streaming services like Netflix and Amazon Prime (Blockbuster & friends are already long-gone). In a more relevant occurrence, the American "sedan" is losing popularity and U.S. automakers are abandoning its production. Coming to take its place? Well, we'll get to that.
The Sedan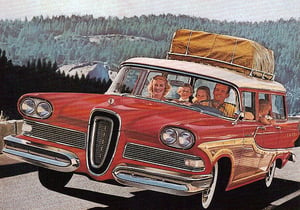 The sedan was America's favorite car throughout the 20th century. Referring to a traditional 4-door passenger vehicle with 2-wheel drive and low clearance, the name "sedan" was first used in 1912, after the "sedan chair" of the 17th century, which was a one-person enclosed box that a wealthy lord would sit in while being carried by attendants. The name "sedan" was used because of the enclosed body of the early automotive models.
Another important, distinguishing feature was the incorporation of rear storage, which encouraged inter-continental travel and suburban expansion in the post-war 1950's. The "station wagon", Chevrolet Impala, and the Cadillac Sedan DeVille were some of the most popular and well-known sedans of the century. With ample seating, interior space and rear storage, they made fantastic family vehicles.
The Minivan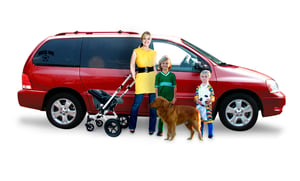 It wasn't until the 1980's and 1990's that sedan's started to see serious rivals in the auto industry. With the '80's came the invention of the minivan. With a slightly higher ground clearance and even more interior space & seating, the minivan soon became the nation's go-to, family-hauling automobile. It was known to be the favored method of transport for the stereotype of the "soccer mom"; someone who regularly ferries a small army of children around town. A minivan could handle the dirty cleats, flying Cheet-os and much-needed breathing room during a long road trip. But they are, admittedly, not as capable as other vehicles when it comes to handling rough terrain. Such is where the American SUV found its niche.
The SUV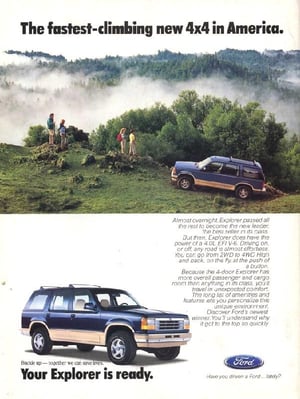 The 1990's in the U.S. were an optimistic time. The economy was doing well, and people had money to spend--as well as an adventurous attitude in doing so. Ford Motor Company responded by creating the "ultimate town & country vehicle," the "Sports Utility Vehicle", or SUV. The Ford Explorer being one of the first SUV's on the market, this new brand of vehicle was embraced by the American consumer because they were marketed as "all-terrain." With just as much seating as a mini-van and even more storage in the rear, as well as all-wheel drive (AWD) and an even higher driver vantage point that had your legs pointing "down and not out," the SUV became a sensation. Even more enticing was the fact that SUV's were classified as light trucks, because this meant that major OEM's did not have to comply with traditional "heavy truck" fuel economy, safety & pollution laws. But, since gas was cheap, people did not mind. For long.
SUV's started to lose their luster in the 21st century. Gas prices rose in the early 2000's and remained high until just a few years after the Great Recession of 2008, causing many people to abandon their "drive for adventure" in lieu of just trying to make end's meet. Auto manufacturers responded by re-designing vehicles to have smooth lines and an aerodynamic shape to reduce gas usage from wind resistance. The fuel-efficiency standards for light trucks started to rise around the same time, and the incentive for manufacturers to produce SUV's fell. One thing was clear--it was time to innovate.
The Crossover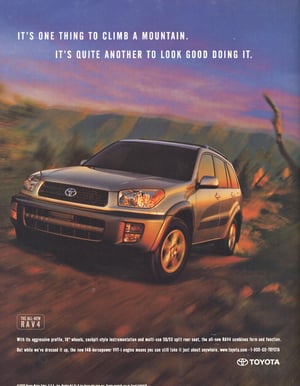 Toyota came out with the first "crossover" vehicle in 1994 with the Rav4. With ample cargo & seating space and a high clearance, it was similar to other traditional SUV's at the time. The feature that set the Rav4 apart was it's construction; the vehicle's roomy cabin was built on the frame of a car body and fused together as one structural object. This single-body construction, as opposed to dual-body construction of trucks and traditional SUV's, allowed for the Rav4--and all further crossover vehicles--to have improved handling, less weight and more maneuverability.
When the gas prices began to rise and SUV sales began to fall in the mid-to-late 2000's, auto manufacturers looked to the Rav4's design to solve their problem, and more crossovers began to reach the market. Now, there are three times as many crossover vehicles sold as minivan's and SUV's combined. But why?
The crossover is the best of three worlds; in other words, it combines the most beloved elements of sedan's, trucks & SUV's into one comprehensive, fuel-efficient, reliable automobile with high clearance, ample seating & enough cargo space to road trip with. One blogger called them: "SUV's with the rough edges rounded off." Although crossover's still maintain a slightly more box-like structure than sedans, they tend to be more aerodynamic than SUV's while still having the SUV's traditional height and a vantage point that makes drivers feel safe (remember: legs down, not out!).
While SUV's have not made their way out of the docket of American auto manufacturers, the three big American Motor companies (Ford, Chrysler-Fiat & GM) have announced that they will no longer produce the majority of their sedan models. This leaves the market wide open for foreign OEM's like Honda, Hyundai & Toyota, all of whom still have incredibly successful sedan's on the road today, and don't have plans on removing them from circulation.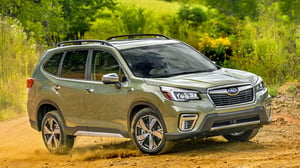 In the end, the people want what they want. The rising gas prices and increased environmental concern of the 21st century demanded a new kind of vehicle with better fuel efficiency but which still has the storage and breathing-room capability that the "soccer mom" or "road tripper" need. Subaru is one company that has capitalized on the cultural shift that took place, marketing again to adventurers, dog-lovers and outdoorsy people who are also highly environmentally conscious. Their Subaru Forrester was one of the first crossovers to hit the market, and now crossover's make up nearly 75% of Subaru's total American-national car sales.
Now if we could only figure out how to make those EV's carry more and run longer on a charge...
---
Look for next week's Industry Insiders blog, which will contain a helpful, downloadable e-book, Our Picks: The Top 5 Crossovers of 2019! Otherwise, always remember to buckle up & stay safe!