At Caritas Vehicle Services, Our Mission is To Serve. We take special care in providing the transportation needs for your community so you have more time to focus on your community's unique mission.
The following is the story of one of our esteemed clients and their congregation's 100 years of good stewardship and selfless service to their community in Merrill, Wisconsin.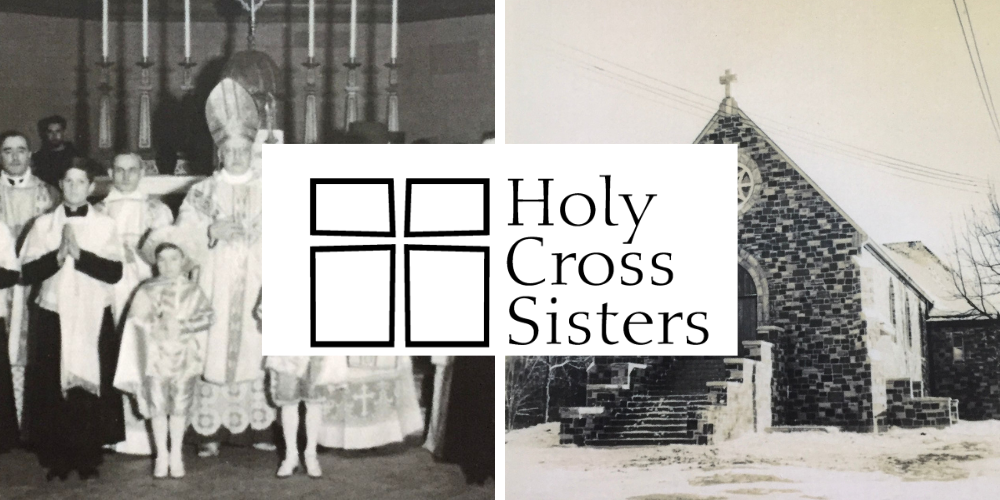 --
It was 10 years ago that our Director of Fleet Management, Brad Forbush, welcomed his first client to Caritas Vehicle Services. In the Fall of 2013, Brad met with Sister Pat Cormack SCSC, then-Provincial for the Sisters of Mercy of the Holy Cross in Merrill, Wisconsin. Sr. Pat was looking for fleet management solutions that would support the congregation's needs, and found Caritas could help.
Sr. Pat Cormack was Provincial of the Holy Cross Sisters for 15 years. She now serves on their leadership team and will celebrate her professional anniversary in 2024. The congregation of Catholic-religious in Merrill, however, goes back over 100 years. They will celebrate their anniversary of service in the Wisconsin town on October 24th of this year.
The story of the Holy Cross Sisters in Merrill, like many congregations nearing completion, is woven into the history of the community they serve. It is a story that reflects the impact of the establishment of social services and places of worship in small towns that, ultimately, helped build an entire nation.
The call to mission work
The Congregation of Sisters of Mercy of the Holy Cross is an international congregation of vowed women-Religious that was founded in Switzerland in 1856 by a Capuchin priest, Father Theodosius Florentini, and a Superior, Mother Mary Theresa Scherer. Fr. Theodosius passed away in 1865, and was succeeded by Mother Theresa, the congregation's first Superior General.
It was their third Superior General who facilitated the Holy Cross Sisters' foray into America, a country with new communities arising every day—communities which needed assistance with even the most basic social services. Mother Aniceta Regli of Switzerland, who took over as the third Superior General of the international Holy Cross Sisters in 1901, facilitated the congregation's growth in Europe and Asia. By 1912, there were 5,000 Sisters serving worldwide.
Then, in 1912, Mother Aniceta sent six Holy Cross Sisters to the U.S. to staff a hospital in North Dakota, and 12 more soon followed. WWI hampered their emigration for awhile, until 1920, when Mother Aniceta organized their sponsorship of a school in North Dakota, an orphanage in Missouri, and two hospitals in Illinois.
The Holy Cross Sisters quickly became known as prolific healers, educators, community coordinators, and spiritual leaders. The Sisters who came to America were highly skilled and multi-lingual, qualities which bolstered the effectiveness of the care they provided in North Dakota, Missouri and Illinois. Word spread throughout the Midwest region of their activities and soon reached the City Council of a small, blossoming town in central-northern Wisconsin called Merrill.
On July 1st, 1922, Mother Aniceta came to the U.S., after completing her 15th year as Superior General. She even had to learn English at age 65 to prepare for the trip. With 27 professed Sisters serving in the country in 1922, her aim was to ballast the work that was already being carried out, and to inspire her Sisters to spread further and help even more communities.
In Merrill, the City Council was, at that time, in possession of an empty mansion called the T.B. Scott house, constructed by and named for an 1800's-era lumber baron and once-mayor of the town. Coincidentally, Merrill didn't have its own hospital, and the solution seemed obvious--but the Council would need someone to run it. At a time when many American communities were turning to Sisters to develop and staff hospitals, schools, orphanages and other community facilities, the City Council of Merrill saw a mutually beneficial opportunity that would suit their need for a hospital and satisfy Mother Regli's desire for a novitiate in the U.S.
While staying in Illinois, overseeing the hospital work and searching for opportunities to establish a formal Province in the country, Mother Regli received a letter from the City Council of Merrill. Seven days later, on July 30th, 1923, she traveled to Merrill, accompanied by her assistant, Sister Fabiana Ganter.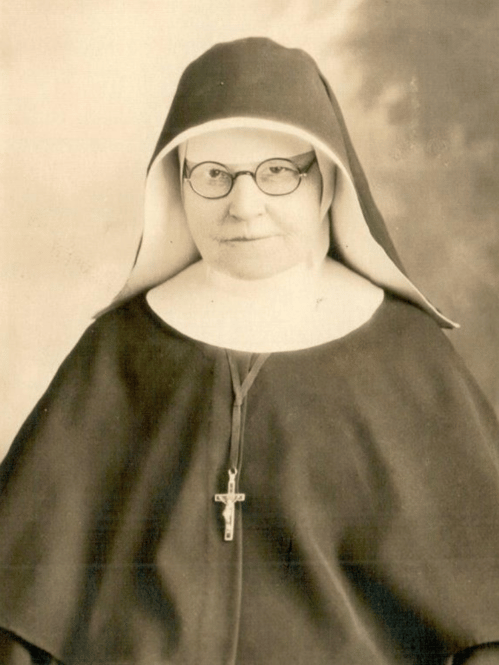 Mother Aniceta Regli coordinated the Holy Cross Sisters' foray into America.
A mutually beneficial mission
After traveling north and meeting with the City Council, Mother Regli and Sr. Ganter found that their presence in Merrill was more desired than they originally thought. The Council agreed to build a hospital if the Holy Cross Sisters would manage and staff it, while the T.B. Scott Mansion would become a residence and convent for women-Religious.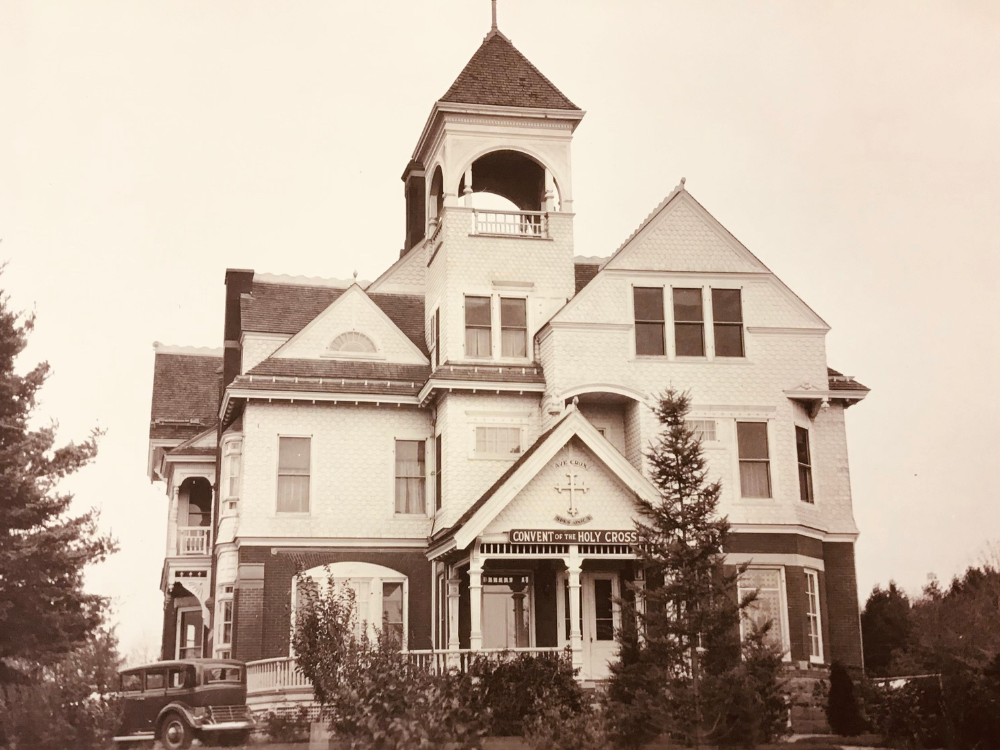 The T.B. Scott Mansion, circa 1920's.
The local men set to work, with almost the entire community of Merrill contributing in some way. Merrill residents assisted in building the hospital, welcomed the Sisters with grace, shared with them food and supplies, and even gifted them statues of the Blessed Mother and St. Joseph for their new Provincial House.
Meanwhile, the Holy Cross Sisters, led by Mother Regli, sponsored and oversaw the new hospital's construction. Bishop Pinten, from Superior, WI., soon gave his blessing for the Holy Cross Sisters and their mission in Merrill. They had found their home in the "New World."
On October 24th, 1923, Mother Aniceta and a group of 10 Sisters & postulants arrived in Merrill on a train and were welcomed by the townspeople to the 21-room mansion, their new convent. A chapel had been added to the building, and a local priest, Father Prock, donated four organs when he noticed the Sisters had none.
After a week of Convent Open House Days, where the residents of Merrill—who were largely non-Catholic—were invited to visit and get to know their town's new residents, Mother Aniceta set to work. She guided the new postulants and Sisters through their education, prayer, character development and training in social, intellectual, and vocational arts. She laid the foundation for their mission of educating and caring for the sick and needy in their new home.
Soon after, in February 1924, Rome and the Holy Cross Generalate granted Mother Aniceta permission to turn their new convent into a novitiate. Mother Aniceta Regli herself was named the new novitiate's first Novice Mistress. That year, reportedly, her motto was: "A cheerful giver loves God. Joy in the heart. Joy on the tongue. Joy in the eyes. All this radiates joy."
A hospital, a school, and a legacy
The new hospital's cornerstone was laid and blessed on September 13th, 1925. Holy Cross Hospital, as it would be known until the late 80's, was built with funds largely provided by the City of Merrill and selfless donations from townspeople. There were factory workers who took out portions of their checks, and women's groups going door to door. Calling the hospital's construction a "collaborative effort" is an understatement.
In the end, the building was 5 stories high and had 52 beds. The first patient was a 42-year-old housewife from Merrill who was admitted on November 15th, 1926. The first baby was successfully delivered three days later.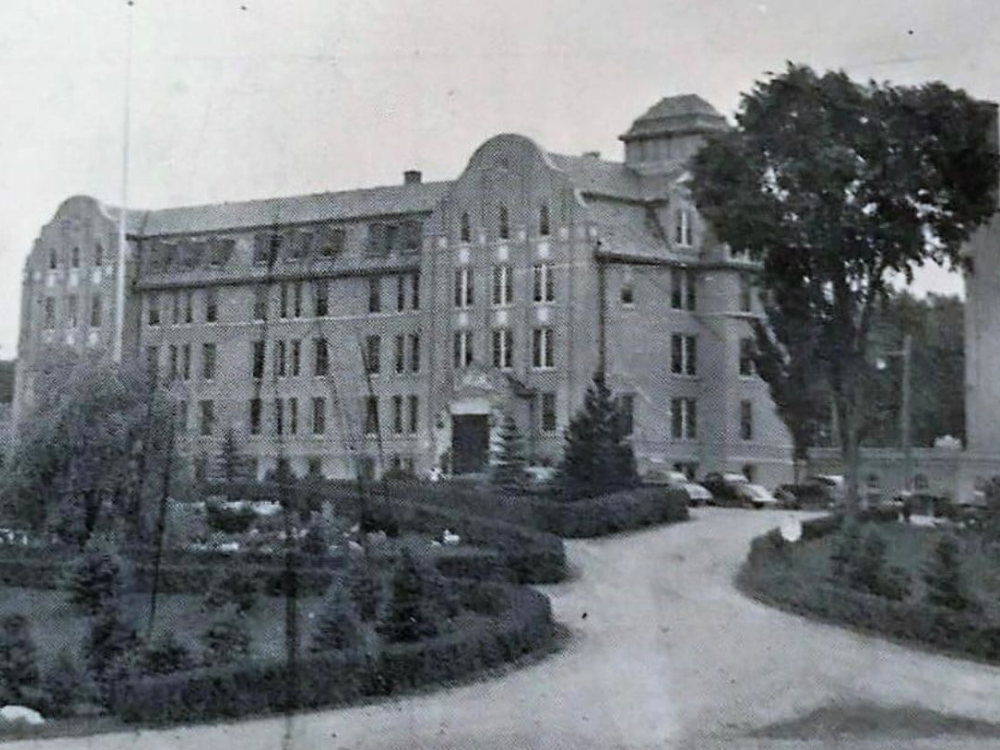 Holy Cross Hospital was officially opened in September 1925. The first hospital in Merrill, it still serves patients today as part of the Aspirus Health Network.
Mother Aniceta Regli had done her part. She had coordinated the hospital build, established a novitiate, and facilitated growth of the Holy Cross Sisters—when she returned to Switzerland in 1927, there were 59 professed Sisters in Merrill, 32 more than when she arrived just five years prior. These Sisters were still hard at work, both at the hospital, where they served in many positions and, later, in starting a local, all-girls school called Our Lady of the Holy Cross (OLHC) High School.
Meanwhile, the hospital continued to grow, with a chapel added in 1937, a new wing built in 1951 to help with overcrowding and a tunnel constructed underground that connected it to the Convent. For decades, Holy Cross Hospital provided the community of Merrill with healthcare as well as dietary, pastoral and pharmaceutical services. It was officially civically incorporated in Wisconsin in 1969, and changed hands a few times, but still exists today as part of the Aspirus Health Plan network. It is now known as Aspirus Merrill Hospital and, on November 13th, 2023, it will celebrate 97 years of serving patients in Merrill.
But the Holy Cross Sisters had expanded their mission efforts beyond just healthcare—they also built a school which was led by Mother Aniceta Regli's successor, Mother Mericia Baumhauer, who came to the U.S. in 1926. Mother Baumhauer sought to provide formal education for candidates and postulates who didn't have a secondary education.
It was 1936 when the Sisters, led by Mother Baumhauer, started OLHC High School, and classes were held originally at the T.B. Scott Mansion/new convent. There, women-Religious educators taught their own, but also took in non-Sisters from the surrounding area who wanted a Catholic high school education. There were even some students who traveled from communities outside of Merrill, living at the convent for the entire school year.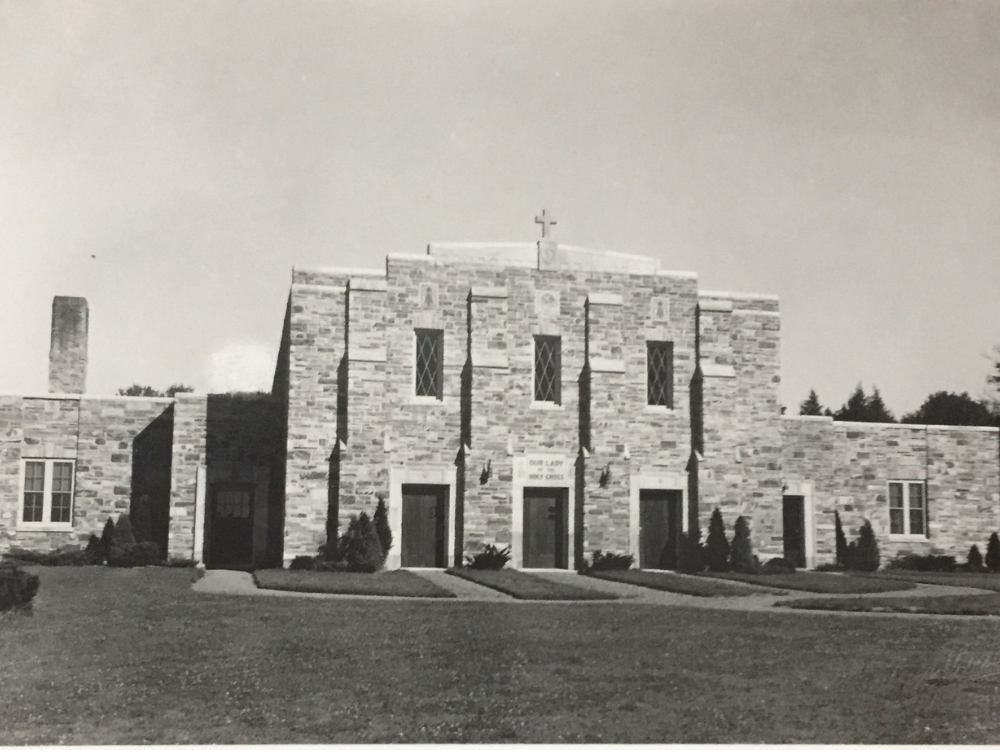 OLHC High provided a place for both prospective Sisters and Catholic girls from the surrounding area to achieve a secondary education.
At OLHC, anyone could be taught a full range of subjects by degree-holding Sisters and, to accommodate the growing number of students, a new convent was completed with dorms, a dining hall and tunnels connecting it to the T.B. Scott Mansion and the hospital. The tunnels came in especially handy during the winter months, when Merrill is swathed in cold and snowy weather. Now, the "second" convent is known as Bell Tower Residence—an assisted living facility for Merrill's aging population.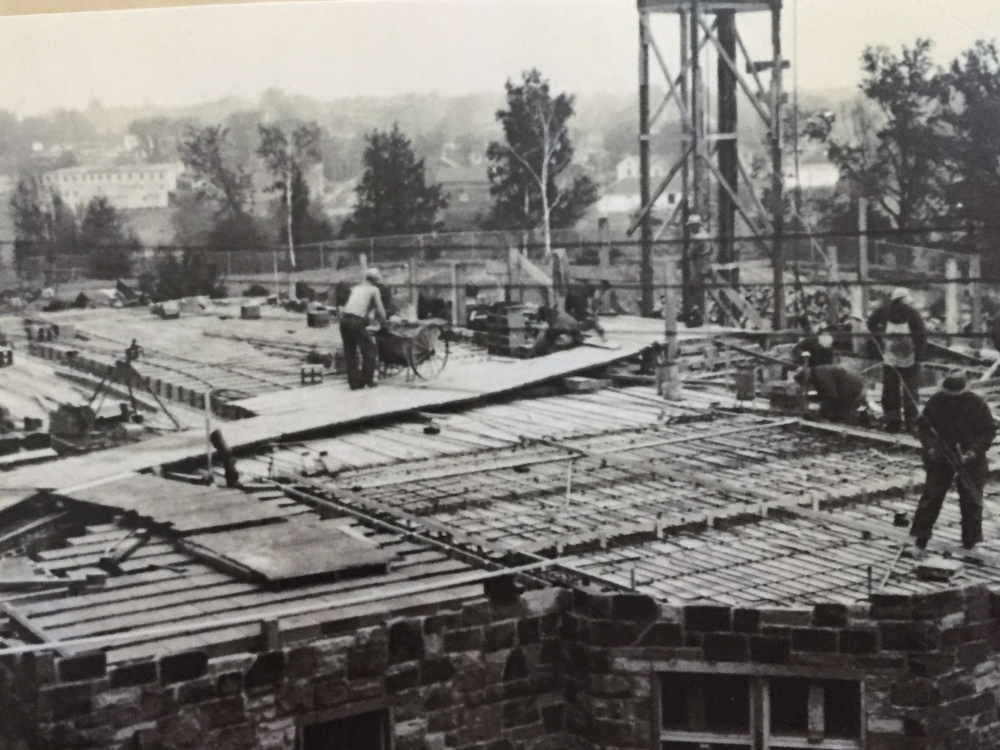 Construction of the Holy Cross Sisters' new convent broke ground in 1946.
OLHC High also changed hands and names a few times, but from 1936 to 1968, 570 women graduated from its halls. And, when the school did eventually close, the Sisters didn't leave their mission of education behind. Instead, they became librarians, teachers, and principals at other, local, Catholic elementary schools. Some also served as teachers and administrators in nearby towns Antigo and Rhinelander, while still others traveled to teach at parishes within the Diocese of Superior that didn't have religion classes.
Now, the Holy Cross Sisters no longer administrate a school of their own. But for the last few decades, they have served as reading buddies and mentors in a youth apprenticeship program at Merrill High School, coordinated a lake retreat complete with snowshoe hikes, ice fishing and nature activities, and assisted with parish ministry and religious education in the surrounding Diocese. To this day, they continue to support Catholic education through their Formation & Ministry Enablement (FAME) grant.
Nearing completion
In 1954, 31 years after Mother Aniceta Regli oversaw the incorporation of the Holy Cross Sisters' first convent in Merrill, their congregation was officially deemed by Rome a Province in the U.S., with the newer convent (now Bell Tower Residence) becoming their Province headquarters.
And now, a full century later, the groundwork laid by the Holy Cross Sisters, from the construction of physical facilities to community services, is still being felt in Merrill. Their hospital, once Holy Cross Hospital, is now a premier healthcare center for all of Merrill. When OLHC High School closed in 1968, it became a junior college and then the Menard Center, which hosted a spirituality center, community programs and employment offices for the people of Merrill.
As the Holy Cross Sisters near their final years of service in Merrill, with only two leadership teams expected to carry forth into the near future, their community's focus is twofold: to celebrate and remember their efforts in building an entire community and establishing a Province, and to take care of its aging population.
In December 1984, the Sisters repurposed a house that had been donated to them as an elderly care home—this was eventually moved and became Bell Tower Residence. Since 1988, the Sisters have provided various levels of assisted living in a place where they could adequately care for their own population as well as those from the surrounding community.
By 1999, Bell Tower welcomed residents from all over the country, employed more than 68 people, had 73 units and cared for around 70 residents. From 2004 to 2006, renovations were completed with funds raised by the Holy Cross Sisters despite a national economic recession, and in the Summer of 2014, a new memory care unit was installed with a special grant from the Bierman Foundation.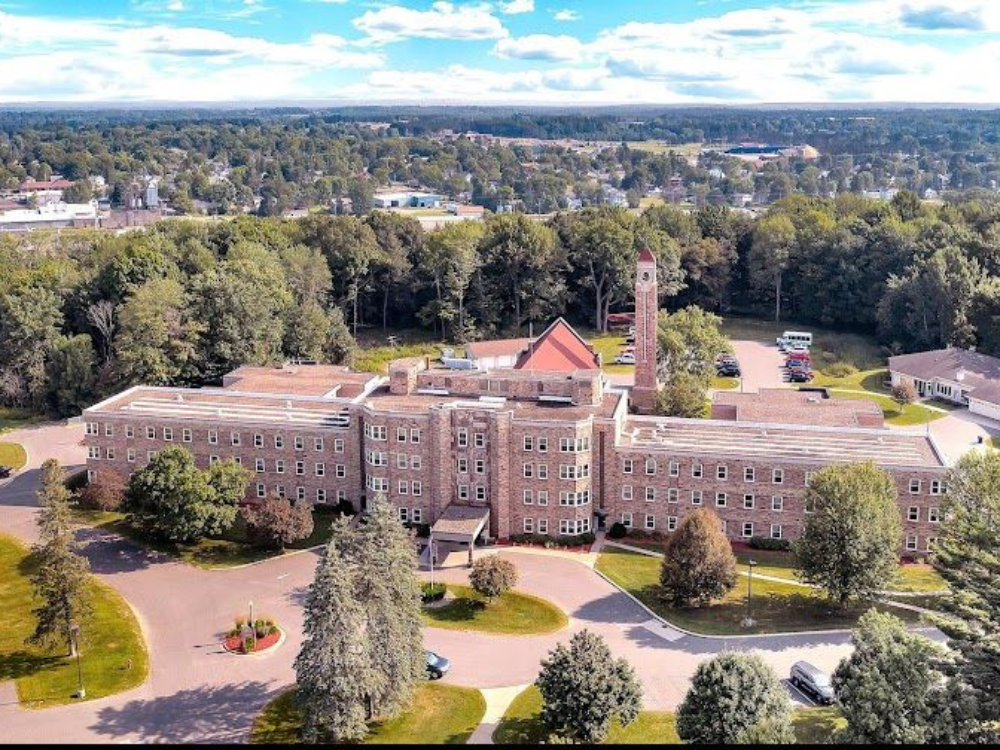 Bell Tower Residence is today a premier living facility for the Holy Cross Sisters' and Merrill's aging population.
While ownership of Bell Tower has since transferred to Wisconsin Illinois Senior Housing (WISH), retired Sisters still volunteer there, visiting residents to sit with them, pray with them, lead church services and coordinate living activities. Since 1990, 1,000 people have called Bell Tower Residence home.
And since the Holy Cross Sisters arrived in Merrill in 1923, even more thousands have benefited from their mission.
The present mission
As Sr. Pat Cormack reflects on her congregation's activities over the last 100 years, she smiles. There would be no Holy Cross Sisters without Merrill, and there likely wouldn't be the facilities for social services in Merrill without the work of the Holy Cross Sisters.
But now, Sr. Pat is focused on her own community's aging population and their mission, which is nearing completion. She has been instrumental in organizing the Wisconsin Religious Collaborative (WRC), an effort to mutually benefit different congregations in Wisconsin and Illinois by sharing and collaborating on administrative and healthcare services.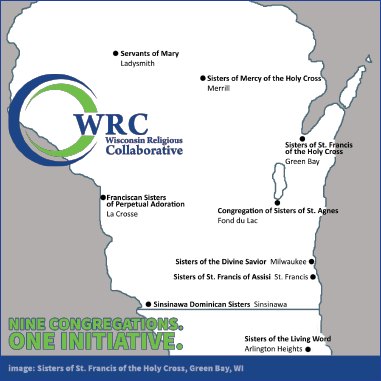 The WRC pools resources from women-Religious communities in Wisconsin and Illinois in order to streamline management and administrative faculties.
As President of the WRC, Sr. Pat coordinates resource pooling between congregations that are nearing completion—ensuring the impact of the "end" of their mission. Most of all, she wishes to provide care and spiritual support for the Sisters who have done so much for the local communities, like Merrill—communities that they helped build and still call home.

The Sisters of Mercy of the Holy Cross in Merrill, Wisconsin, circa today.
---
To learn more about the Holy Cross Sisters and their legacy of service in Merrill, read this article from Merrill's local paper, the Foto News.