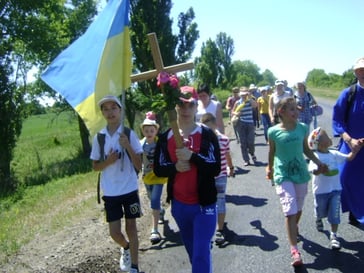 In times of crisis, ministry serves as a beacon of guidance, assistance and hope to those most in need. Caritas Vehicle Services' sister organization, the non-profit CARITAS For Children, has worked tirelessly for over 20 years to help raise children in the poorest areas of the world out of abject poverty by providing them food, housing, clothes and, perhaps most importantly, access to education at all levels, from kindergarten to university. In fact, if you are a client of Caritas Vehicle Services, you have already provided indirect support to the CARITAS mission.
Now, there is another cause, forced into the forefront of minds everywhere by an oppressive Russian regime. That is the brothers and sisters of Ukraine who face a brutal military assault on their lives, their loved ones, their peace, their home, and their democracy. Now, for Ukraine, the cause is survival and freedom from tyranny. For CARITAS For Children, the new cause is solidarity and support.
CARITAS For Children has ties in the region that go back to 1998, when founders Christopher and Barbara Hoar adopted two children from an orphanage in Poland. Their adoption experience was the catalyst for their creation of the child sponsorship ministry that became CARITAS For Children. While the organization operates in five countries now, the first place the Hoar family established their ministry was in Poland. Since 1998, CARITAS has continued their relationship with the Sisters by supporting them in running their orphanages in Poland. While this operation never ceased, there is a renewed focus to help the sisters serving in Poland, as their ministry services have drastically and suddenly increased due to the Ukrainian refugee crisis.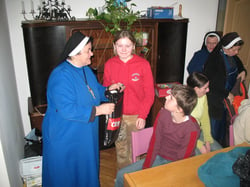 Currently, the Little Servant Sisters of Poland are offering hospitality and shelter to women and children refugees in Przemysl, and other centers with their General House in Stara Wies, near Brzozow. The Sisters' focus is in providing places of welcome, spiritual and psychological support, shelter, food, clothing, as well as basic necessities like medicine, child products and games. Additionally, 25 members of their religious congregation are currently stationed in 10 houses in Ukraine.
With firm faith and hope in God, they have decided to stay in Ukraine and are courageously helping the people under siege during the Russian invasion.
As our Sisters care for the shocked and desperate Ukrainians, it is vital they receive prayerful support and funds which will be directed to service those who remain with them in Ukraine, as well as for those who are fleeing to Poland.
Along with CARITAS For Children, Caritas Vehicle Services is asking for our clients to share support and prayers. Specifically, we pray that we can support the Sisters' works of mercy towards homeless Ukrainian refugees by providing funds for:
Food
Clothing
Medicine
Emergency shelter
Let us also join together and share whatever assistance we can. Our sisters and the refugees will most certainly need it.
Thank you, and may liberty and justice prevail with the aid of God, prayer, and the yet-undefeated, universal force of unconditional love.