At this time of the year, it is important to pay closer attention to the people and things that fill our lives with joy and meaning. One of Fleet Services' esteemed clients, a bakery company from Racine, Wisconsin called Racine Danish Kringles (RDK), lives the spirit of the season not only with their delicious pastry, but also with their generous giving to several charitable organizations. This is their story.
In the late 1800's, a group of Danish immigrants settled in southeastern Wisconsin, in what is now the village of Racine. They brought with them a coveted recipe for the traditional Scandinavian pastry treat known as kringle.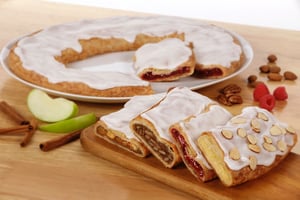 A kringle is a Nordic pastry composed of dough that is hand-shaped into an oval ring and filled with delicious nuts, fruits and other delicacies. It is topped off with a delectable frosting glaze and makes a perfect gift for the holiday season.
The Danish immigrants who founded Racine Danish Kringles initially supplied their pastry to just the southeastern region of Wisconsin. RDK's business began to expand after the bakery was acquired in 1988 by a local couple, Mike and Roylene Heyer, and over the past thirty years RDK has grown to become the nation's largest provider of kringle selling over a million kringles every year throughout the U.S.
Racine Danish Kringles' slogan is: "It's Not Just A Treat, It's A Tradition." Their family bakery lives this mantra, as they have preserved all of the unique baking methods established by the original Danish bakers. Every step of the process, from baking to shipping, is done entirely by hand in their bustling operation in Racine.
How Kringles Are Made
The bakers at RDK begin bright and early every morning, first folding the hand-made dough over and over again with a mechanical "sheeter", or roller. The folded dough is laid to rest in a freezer and taken out to be "sheeted" again and again, creating the kringle's signature 81 layers. Once the dough is ready, it is filled with generous amounts of various fillings and hand-shaped into an oval. Some of the most popular fillings are pecan, raspberry, almond and apple-cinnamon.
As soon as the filling is wrapped, the kringles are baked in an oven until they turn golden-brown. The kringles are then "iced" by hand with home-made frosting, creating a one-of-a-kind, finished delicacy that is ready to be enjoyed by yourself, your family and your friends.
RDK's Legacy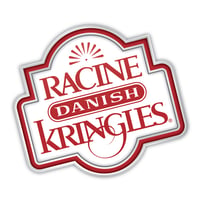 Mike & Roylene Heyer acquired Racine Danish Kringles in 1988. Originally the proprietors of a local food market in Glendale, WI, they sold kringles for years before deciding to take up the craft themselves. Mike & Roylene made sure to honor the time-tested Danish baking traditions, while expanding upon their market in southereastern Wisconsin to include national wholesale & mail-order business. Kringle is now known as the "Official Wisconsin Pastry," with RDK's sales peaking during the holiday season. Their impressive operation churns out around 10,000 kringles a day between Thanksgiving and Christmas.
At the heart of RDK's operation is the Heyer family's commitment to fundraising and charitable works. A third of their business is involved with fundraising, and they give to several major non-profit organizations including Children's Hospital of Wisconsin, the Make-A-Wish Foundation, and the Hope House of Milwaukee, among others.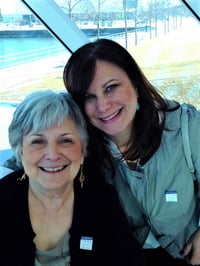 Roylene Heyer (pictured right with daughter Marie) passed away in 2015 after a long battle with a serious pulmonary illness. Before she passed away, Roylene had the opportunity to see RDK become active supporters of the annual Fight For Air Climb event held in downtown Milwaukee, where participants climb 1,034 stairs to the top of the US Bank building and raise money for the American Lung Association. Mike and Roylene's family still coordinate RDK's involvement in this annual event where participants gladly receive single-servings of kringle.
Mike and Roylene's son, Chris Heyer (pictured below with father Mike), is RDK's CEO, and Marie serves as the Director of Marketing. The Heyer family understands and honors the heritage of RDK's delicious treats as well as kringle's symbol of holiday good-tidings. Simply put, their kringles are something to be shared with the people you love.