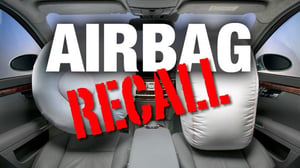 Announced last week, there has been yet another Takata airbag recall, affecting 63 million airbags in just as many tens of millions of vehicles. Both CNN and the National Highway Traffic Safety Administration (NHTSA) reported that this recall, the latest in a multi-year-long slew of recalls on Takata airbags, is due to potentially life-threatening defects. When the Takata airbags in question are exposed for an extended period to high heat and humidity, there's a possibility the airbags can explode and injure the driver.
Although drivers of recalled vehicles have been notified by mail, the NHTSA still recommends that all vehicle owners check online using their vehicle identification number (VIN) and sign-up for recall alerts for any present or future recalls affecting your vehicle.
The NHTSA provides all the need-to-know information surrounding the Takata airbag recalls in their online report, "Takata Recall Spotlight." The webpage includes a link to check for a recall on your vehicle, a link to sign up for recall alerts, a list of affected vehicles, a video explaining what causes the airbag defect, contact information for the now-bankrupt manufacturer Takata, and a helpful FAQ section for concerned drivers and fleet managers.
Please read the important information from the NHTSA by clicking the link below, and feel free to contact Fleet Services with any further questions. The safety of your drivers is our greatest concern.