Best Practices In Managing Your Vehicle Maintenance
Your Fleet vehicles require regular and cost-effective maintenance and repair.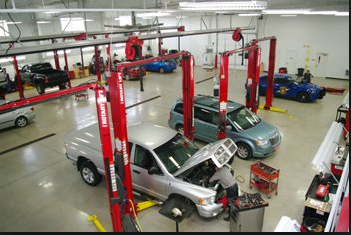 We recommend this be achieved via a managed maintenance program. We have as our strategic partner in managed maintenance a global and national leader in this process – Network, a division of LeasePlan. One of Network/LeasePlan's facilities is located in the Chicago area, and we recommend to the leadership of all prospective clients that they visit and tour it as part of their information gathering process. Such a visit normally takes a morning or afternoon to complete. Please consider such a trip. At this service facility, you would learn more about the following best practices that are part of our managed maintenance program:
National Account Service

– A network of over 55,000 major maintenance and repair facilities located throughout the U.S. are available for your drivers to utilize. Samples of these suppliers are: Firestone, Goodyear, Jiffy Lube and Sears; and mnay more. Labor and parts prices have been pre-negotiated to provide volume discounts of up to 25%. Your preferred vendors can also be enrolled in this program.
Maintenance Authorization

– Network is contacted by the service vendor for authorization and consultation on any repair in excess of a set dollar limit (e.g., $100). The service representatives who answer the phones, predominately ASE certified technicians, review vehicle histories as well as proposed service estimates to verify the proposed service is truly needed, and to determine if there is any warranty coverage for the needed repairs. T

he Network representative will issue a purchase orders directly to the service shop and the repairs are performed.

Customer Authorization

– Your company can set up a set dollar limit as to how much a driver can spend without Network approval (the $100 mentioned previously) AND a dollar amount that someone at your company needs to be contacted for approval (e.g., $1,000). This allows for expensive repairs to be OK'd or denied (say, for a car that is an older model year and/or has high mileage) prior to being performed. For the high-level approvals of $1,000 or greater, we are notified too so that it can provide recommendations on service work that should/shouldn't be performed.
Maintenance Processing Audits

– All vehicle expenses submitted by drivers, repair facilities, or your company are audited for accuracy. We ensure that the work and prices approved are what is represented on the invoice. Copies of all work performed are stored electronically and available to clients for review on-line.
Consolidated Invoicing

– All maintenance and repair work can be consolidated onto one invoice to your company. You will not have to submit payments to many different repair facilities throughout the country. The monthly invoice will be broken down by vehicle and service work performed along with any other maintenance expenses incurred in that month. The invoice can be divided by divisions or other cost segments, if so desired; and it can be delivered electronically to multiple locations.
Driver Presentations / Education

– It's quite normal for people to resist change. More often than not, it's a fear of the unknown that is unsettling; not concerns over new processes and procedures. We can facilitate in-person, orientation meetings – for instance, at each division– where the managed maintenance program and all other aspects of the fleet management program are discussed and reviewed.
Call 414-771-7030 or Click Below for more information!