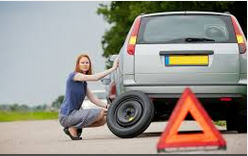 Are you prepared for a roadside emergency? We often hear stories about emergencies on the news or from a friend, but we don't expect to experience an emergency for ourselves. So, if you were driving down the road today and one of your tires blows out, will you be ready? Here are three important safety tips to help keep you safe during a roadside emergency.
1. Get Off the Road
Move as far away from traffic as you can. Not only will this keep you safe, but it will keep
other drivers safe as well and prevent any further emergencies from occurring.
Don't get out of the driver side of the vehicle if you are close to traffic or on the shoulder of a
busy highway. Try to exit from the passenger side of your vehicle.
If you are able to walk to another location safely, do it. You may find assistance for your
emergency at this location, and you will be safe from traffic. When you leave, make sure to lock your doors and leave a note in the windshield for police or roadside assistance.
2. Make your vehicle as visible as possible
Turn on your hazard lights as soon as you make the decision to pull over. Once you have
stopped, get out safely from your vehicle, and use any warning signals you have, such as flares, warning lights, or hazard triangles.
3. Make a signal if you are unable to reach anyone by phone.
Raise the hood of your car and tie a white cloth on your door handle or antenna.
Keep your doors locked. If your vehicle is in a safe location, and you are unable to walk to a safe location, stay inside, lock your doors, and keep your seatbelt on.
These three tips will help keep you safe while you wait for help. If help comes in the form of a stranger exercise caution. If the stranger is suspicious lower your window only enough for them to hear you as you explain to them your situation, or thank them and decline assistance.
Your friends at Fleet Services wish you many miles of safe driving.