When should you outsource your vehicle management?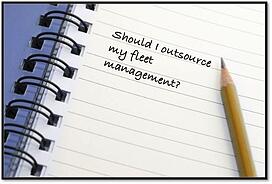 Whether you have a fleet of 10 or 100 vehicles, proper fleet management will reduce your organization's operating costs and save a significant amount of time for your administrative team. So, when does it make sense to consider partnering with a professional fleet management firm? The following questions will help you determine whether or not you should consider outsourcing your fleet management.
Has the size of your fleet changed?

If you've had a significant increase in the number of vehicles in your fleet within the past 18 – 24 months, you're probably familiar with the growing pains that result from the increased workload. Managing all the administrative details requires more time and manpower, and this higher level of support can be provided by a professionally trained fleet manager so your team can focus on what's most important to your organization.
Are your vehicles treated as the the portfolioed assets they are?

Do you receive management reports on a regular basis with detailed analyses of your fleet's operating costs? For example, can you compare maintenance & repair costs on a per vehicle basis from year to year? Is this number trending up or down and do you know why? What is the "true cost of ownership" (lifecycle cost) for each vehicle in your fleet? When should each vehicle be replaced? If you don't currently have access to these reports and/or if your fleet's maintenance costs are rising, it's probably a good time to look into the type of services offered by a Fleet Management firm. Some firms offer an initial consultation including a detailed Fleet Analysis as a complimentary no-cost service.
What is your core business?

How much time does managing your vehicles take away from focusing on what's most important to your company's success? If the responsibility for managing your vehicles goes to one or more employees who have other responsibilities that are vital to your operation, it's important to check-in with these folks and discuss these questions. The decision to partner with a Fleet Management firm is often made when management discovers that managing vehicles has become a distraction that drains employee productivity.
Do you want to run a fleet department?

Some companies prefer to operate an internal fleet department and have available capital to invest in technology and personnel. This is no small investment, to be sure. If your current system consists of manual paper-based record keeping, and you do not employ someone with professional fleet management training and expertise, these are important reasons to consider outsourcing. Reputable firms will have proven metrics that indicate whether or not it makes financial sense to outsource your fleet management.
Are you local, regional, or national?

Do you have in-house expertise in the registration, licensing, & titling regulations across the U.S.? Do you have pre-negotiated pricing discounts at all National auto service providers such as Goodyear, Pep Boys, Sears, Firestone, and Jiffy Lube? Do you have direct relationships with all major Auto Auctions across the country to streamline the disposal of vehicles that are out of service? The complexity of managing logistics and administrative details of a fleet increase exponentially as a company's geographic footprint expands. Partnering with a Fleet Management firm can provide a cost-effective solution.
Call 414-771-7030, ext 109 or Click Below for more information!