One of the overall goals of good fleet management is to reduce your fleet's operating costs. The best strategy to reduce your costs is to select vehicles with high re-sale value, good fuel economy, and low maintenance expenses...vehicles with a low total lifecycle cost. A good fleet manager will evaluate all of the factors that impact purchasing, maintaining, and remarketing a vehicle, and present you with an analysis of which vehicles you can place in your fleet to lower the overall operating cost.
Below, is a sample selection of 6 of the most popular fleet vehicles and their comparative lifecycle costs:
Click on the Image Below to Enlarge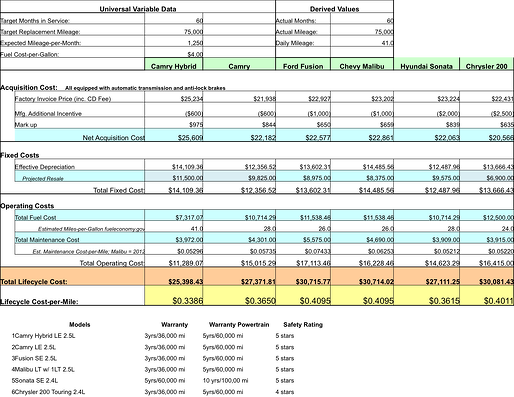 We conduct lifecycle cost comparisons at no-charge for our clients on a daily basis.
Click below for a complimentary analysis on up to six models for your fleet!