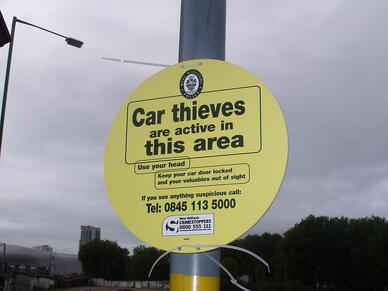 Reports of car thefts have been plummeting. In New York City, car theft has dropped 96% from 147,000 reported incidents in 1990, to just 7400 in 2013. In D.C. car thefts have declined by 50% in the last 8 years alone. Similar patterns can be seen across the country. But what caused this sudden decline?
Important technological advancements over the last few decades have changed the way car thieves need to operate. Small microchips in keys that correspond to the particular car have made it very difficult to traditionally "wire" a car, as the thief must be able to transmit an electronic code to the vehicle (this is also why keys are so expensive to replace). Other features, such as more advanced alarm systems, GPS tracking, and keyless electronic entry systems have made it even more challenging. These features have come together to completely alter the way thieves steal cars.
What types of vehicles are still being stolen?
Due to these technological advancements, car thieves are significantly more likely to steal certain models of certain years over others. By far and away, the most stolen vehicle still on the street is an older model Honda Accord. The mid 90's version remains the lifeblood of the few criminals still engaged in this fading enterprise.
Here's LoJack's list of most stolen cars that have its security system:
1. Honda Accord
2. Honda Civic
3. Toyota Camry
4. Toyota Corolla
5. Chevy Silverado
6. Acura Integra
7. Cadillac Escalade
8. Ford F350
9. Nissan Altima
10. Chevy Tahoe
Are car thefts a thing of the past?
Though it is significantly more difficult for any run-of-the-mill criminal to steal a new car these days, experts are predicting a much more substantial threat looming in the distance. Integrated technology and increasing reliance on wireless and cloud-based operations means that the biggest threat to your vehicle may soon be a sophisticated hacker over a petty thief.
For now the takeaway is that the ever expanding array of security features available on most newer models have made significant strides in ending what was once an epidemic in most major metropolitan areas. You can have a little more assurance that when you park your car, it will still be there when you come back. However, it might be time to trade in that old Honda Accord!