---
These days when you're considering a new vehicle to add to your fleet, you're more than likely to have the option of selecting a continuously variable transmission (CVT) for a particular model.
Auto manufacturers are increasingly offering CVTs on their vehicles because of the increased fuel economy such a transmission can offer.
What 's the difference between a conventional automatic transmission and a CVT?
A typical automatic transmission works using a combination of small gears and larger gears that either hold or spin to obtain certain gear ratios to effect forward or backward movement; typically four forward gears and one reverse.
One type of CVT being increasingly implemented by auto manufacturers uses a belt-driven, two pulley system. The belt rides in between two cone shaped pulleys. The "gear" that the transmission is in depends on the where the belt is riding on the grade of the cone. It allows for infinite "gears" because of the infinite places the belt can ride on the cone of the pulley. Brilliantly simple and complicated so here's where you can learn more if you would like.
What's most important to know about CVTs?
---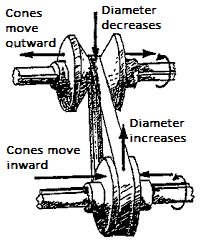 CVTs are very efficient and improve fuel economy
Surveyed consumers who have used them, like them
They are priced similarly to conventional automatics
The feel is somewhat different than a conventional automatic
During hard acceleration, there may be some louder engine noise
Auto manufacturers are using more insulation to muffle the noise because some people find it disconcerting, but there is nothing wrong, it's just different
There are other types of CVTs besides the one described here
---
The demise of some really great innovations is often due to the public's failure to sample. Even though CVTs are different from the automatic transmissions that people are used to, they're catching on. Better fuel economy is better for everyone. A vehicle with a CVT can be a welcome addition to your fleet.