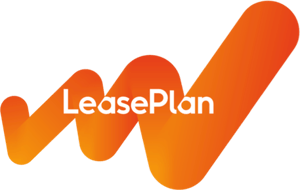 Every hero has a support system. Batman would be helpless is Alfred wasn't in the Batcave providing GPS coordinates and mission details. Iron Man would fall out of the sky if the computer that supports his suit were to crash. The Mission Impossible series wouldn't have dragged on for seven movies if Ethan Hunt hadn't been saved countless times by his colleagues.
All driver-clients of Caritas Vehicle Services benefit from a similar level of back-up when they encounter difficulties on the road. Our drivers may not be masked crusaders, but their safety and satisfaction is paramount to the Caritas operation. So, in August, 2010, Caritas entered into a business partnership with the world's leading fleet management and driver mobility company, LeasePlan USA.
LeasePlan's global headquarters is based out of the Netherlands, and its U.S. operations are based in Atlanta and Chicago. They currently have as many as 1.8 million vehicles under management in over 30 countries. Similar to Caritas, they provide fleet management services that include Vehicle Acquisition and Leasing, Strategic Fleet Planning, Managed Maintenance and Repair, Accident Management, Emergency Roadside Services, Fuel Management, Vehicle Rental, and Telematics. Furthermore, the arm of LeasePlan that manages the maintenance of mid-to-small-size fleets and private individuals or ventures is known as Network.
The kind fellows at Network are your Alfred; your Iron Suit; your support team of MI6 agents. At any time and from any time zone, you can place a call to the 1-800 number provided to you by Caritas and there will be a friendly voice on the other end of the line waiting to help with their years of experience and ASE-Certified knowledge.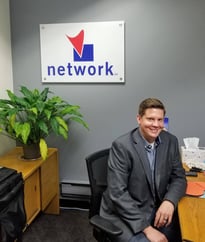 To provide for you a clear image of how Network operates, Caritas took a tour of one of their Chicago-based facilities. Network's main campus is in Atlanta, Georgia. Their nationwide call center is located in Rolling Meadows, a suburb of Chicago, where ASE-Certified technicians and support staff man the phones 24-hours a day, 365 days a year. As we are Midwest-based, we visited the Rolling Meadows location and met with our Account Manager, Ken Fornoff, pictured to the left.
Ken has risen through the ranks after beginning in Network's Mechanical Department, where driver and shop calls are fielded. His extensive automotive background and years of experience manning the phones in the Mechanical Department provides Ken with the knowledge necessary to provide top-tier customer service to our drivers and clients. Naturally, there was no better person to give us a tour of the Network facilities.
Innovation (Risk/Collision Management)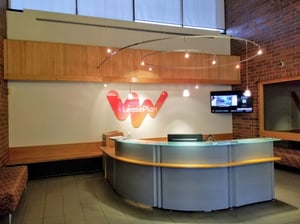 When you get past the nice lobby of Network's Chicago facility, you walk down a short hallway to a massive room filled with cubicles. You can hear the pitter-patter of fingers on keyboards and constant chatter of employees on the phones with clients. Although there are no signs distinguishing departments, Ken knows where each of them are. He points to the right, towards a section of cubicles, and explains that it is a department known as Innovation, which is truly risk and collision management. The Innovation Department manages emergency roadside assistance needs for drivers. The friendly employees receive the expert opinion from their colleagues in the Mechanical Department, who have already assessed the situation based on the drivers' claims and recommended to Innovation that a tow is necessary. Innovation is then responsible for seeing the towing process through, helping the driver every step of the way.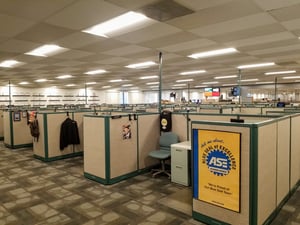 Mechanical
The Mechanical Department is a panel of automotive experts that are always available to answer your questions and help in any way possible. Nearly all of them are former auto-shop managers or owners with an average of over 20+ years experience in the auto industry. Together, they field 3,000-5,000 calls a day from drivers & auto-shops.
Ken introduced us to an employee, another kind gentleman named Ken, who fields incoming service calls as his full-time retirement plan after managing a shop for 30 years. I sit down with Ken as he answers calls from drivers and shops all around the country. One minute he's speaking to a shop owner deep in Mississippi, the next a shop owner with similar issues but with a New York accent--he was calling from the Bronx.
If a driver calls in with a mechanical issue, Ken will refer them to a nearby shop and coordinate with Innovation if they need to be towed there. Once at the shop, Ken is responsible for reviewing estimates and approving work. He verifies everything with the driver's Fleet Manager and with a database called Alldata, which provides him with pricing on parts and even labor time. If a shop takes far longer to complete a job than what Alldata reports as the average, Ken will be forced to deny approval for payment for the work.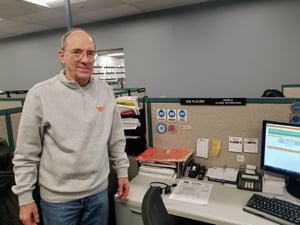 Another aspect of Ken's job is to assess when a vehicle requires preventative care and how often. When a car is in the shop for non-routine maintenance, it may also be a good time to get the oil changed. Ken would be the one to make that judgement call and approve it with the driver's Fleet Manager.
Altogether, the employees of Network's Mechanical Department possess a powerful wealth of automotive knowledge that truly is priceless to drivers and fleet managers alike. They acquired such knowledge through years of experience at shops and through ASE-certification courses.
"ASE" is short for the National Institute of Automotive Service Excellence. They are a non-profit organization, in operation since 1972, that works to improve the quality of automotive service by testing and certifying automotive professionals. It is a requirement of Network that each employee have an active ASE Certification, and they display their achievements with pride (the back wall is decorated with certificates for each member of the Mechanical Department).
Service Center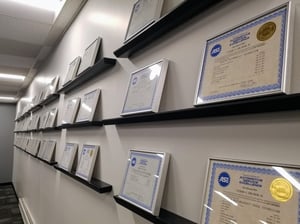 Our next stop on the tour led us down a hallway adorned with more awards & accolades to a room with more arrangements of cubicles. He explained that the area in which we now stood was called the Service Center.
The Service Center handles two major operations. They provide fuel cards to the Fleet Managers, helping them decide upon such aspects of the fuel card process as allowance and calculating average spending.
The Service Center employees are also responsible for publishing the Driver Kits that are provided to you via Caritas. The Driver Kits contain emergency procedures, vehicle maintenance guides, fuel card information, and specific information pertaining to a driver's vehicle.
Safety Department
The last set of cubicles we visited was the Safety Department. The Safety Department employees have perhaps the greatest responsibility of any other Network operation; their job is to mitigate risk for the driver-clients of Network. They do this by establishing personal mileage reporting, coordinated with each client's Fleet Manager. They are also responsible for coordinating motor vehicle record checks of every driver in every clients' fleet. The record checks are continuously monitored and updated.
The Safety Department also provides telematics and GPS-coordinate tracking. Network is a partner of Geotab, a prominent & reliable "vehicle tracking solutions" enterprise. By providing Fleet Managers with the locations of their drivers and other pertinent driver background information, as well as personal mileage reporting for each driver, the Fleet Managers (like yours at Caritas Vehicle Services) are able to better handle risk and defuse negative scenarios before they happen.
---
Network's two offices in Atlanta and Chicago manage the operations of dozens of fleets across the entire U.S. All departments interact with each-other at the click of a mouse, relaying important driver information and putting heads together to solve problems. They are a "Network" alright--a tightly woven, interconnected web of knowledgeable employees who are eager to help with all of your vehicle needs so that you can stay focused on what's most important to your business...your business!