---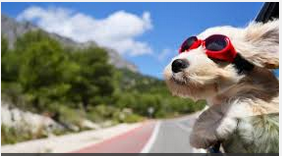 Now that warmer weather is upon us, lots of folks are making plans to hit the open road! Where will your travels take you? Across the Great Plains of the Midwest, through the mountains of Colorado, over rolling hills of the Northeast, or perhaps for a long drive along the Pacific Ocean? To help make sure your car is up to the task, here is a list of the Top Five most important mechanical items to have checked before you embark on your journey. Wherever your travels may take you, your friends at Fleet Services wish you many miles of safe and pleasant motoring . . .
---
1. Tires & Brakes
Tires and brakes take the worst the winter months can dish out. Salt, sand, and ice really take a toll on these vital car components. Be sure to check the tread depth on your tires to ensure they will be able to grip the road safely during the rainy spring months. Be sure to have your your tire pressure checked at the same time to make sure your tires are in safe condition! Your brake pads might have become corroded due to salt throughout the winter and may need to be replaced, if you hear any squeaking or grinding noises.
2. Wheel Alignment
Another important item to have checked is your wheel alignment. This can become affected by potholes and rough roads during the winter, which can cause your car to pull to the left or right, or it may cause steering wheel vibration. Having your car properly aligned will provide you with a smoother, more enjoyable ride.
3. Battery
Your battery can struggle to get through winter especially, if you live with freezing temperatures. It is best to have your battery, starter, and alternator tested to ensure these components are working properly. If you notice any difficult starts, if a check engine light comes on, or if you see any corrosion around the battery posts or terminals it would be best to have the battery tested, cleaned, or even replaced.

4. Fluid levels, Hoses, and Belts
It's important to make sure your coolant, window washer fluid, oil, and brake fluids are all topped off in the spring months, since they can become depleted throughout winter. Another important item to have checked are your car's hoses and belts for wear and tear. Cracks and leaks in your hoses as well as cracks in your belts can cause expensive repairs later on. Having the fluid levels, belts, and hoses all in proper working order will help your car run at it's peak performance.

5. Clean
Cleaning your car's exterior, underbody, floor mats, interior, and wheels will help remove all the salt, dirt, and grime from the long winter months which can take a toll on your car and even damage it. Taking time to have your car thoroughly cleaned will protect its appearance and prolong its useful life.
Taking time to prepare your car for spring and summer driving will give you more peace-of-mind and allow you to enjoy your travels, wherever the road may take you! From all of us at Fleet Services Services, we wish you a safe and Happy Easter holiday! Please feel free to reach out to us, if we can be of service to you in any way.
---