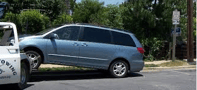 Sister Josetta set out on a long road trip from Springfield, IL all the way down to Texas, but on her way through Arkansas, the battery in her van failed. A good samaritan helped her with a jump start, but the vehicle soon stopped running, and all of the check engine warning lights came on. This was not a good situation as Sr. Josetta was basically stranded in a town where she did not know anyone. This time she was stranded at a gas station. How was she going to get her car fixed so she could resume her trip?
Sr. Josetta's community, Dominican Sisters of Springfield, IL, had just recently partnered with CARITAS Vehicle Services, which now serves the Dominicans as their Virtual Fleet Department. This seemed to be the perfect time to put the new fleet management program to the test. She called the 800# located in her Driver Kit and spoke to a Certified Technician from the Mechanical Department.
Sr. Josetta wondered to herself how someone who is nearly 1,000 miles away was going to be able to help? Within just a few minutes, arrangements were made to have her van towed to a local Firestone facility, and a short time later, the problem was identified as a broken alternator. The part was replaced and Sr. Josetta was back on the road within a couple of hours. It's not often that someone in this situation is able to get back on the road so quickly. This is a nice example of how a well executed fleet management program can minimize a driver's downtime and inconvenience when unexpected problems occur on the road.
If you ever find yourself in a similar situation, remember the three important safety tips for a roadside emergency.