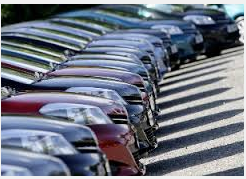 It's not uncommon for small to medium-size organizations including many of our non-profit and faith-based clients that use vehicles in the normal course of running their operation to underestimate the financial impact of managing vehicles. Vehicles are depreciating assets that can become a "black hole" of expense when not properly managed. The solution is to develop and implement a Fleet Management system that is designed to reduce the operating cost of your vehicles. But, how do you know if you really need a Fleet Management program? Answer the following 10 questions to find out . . .
Does your organization own or lease 20 or more vehicles?
Do you garage and operate vehicles in more than one location?
Do you acquire new vehicles from retail dealerships?
Do you pay cash for or lease any of your vehicles?
Are individual drivers responsible for keeping their assigned vehicle maintained?
Do you ever have vehicles serviced at any of the large national service providers such as Goodyear, Firestone, Midas, Pep Boys, Jiffy Lube, Sears, Car-X or others like these?
Is the cost of maintenance and repairs for your vehicles increasing?
Do you dispose of old vehicles through retail dealerships?
Do you keep vehicles longer than eight years or for 100,000 + miles?

Do you manage vehicle titling, registration, and all maintenance and repair records in house?

If you answered Yes to four or more questions, you should take a close look at how a Fleet Management program can remove the "hassle factor" and lower the overall cost to operate your vehicles. To receive a free copy of a detailed Fleet Evaluation Report, click on the blue button below . . .
You will not receive any unwanted calls or emails.