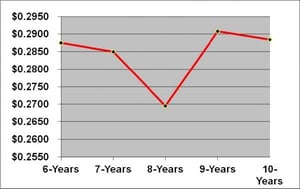 So, you have a fleet of vehicles. How do you know that you're receiving a fair price on vehicle acquisition? How do you know when the optimal time to replace each car might be? Such are common questions that can be answered by understanding a vehicle's life-cycle cost. Knowing the details of saving money on operating a fleet of vehicles is the job of a fleet professional, but can also be helpful to our clients in managing their daily operations and business decisions.
In order to ease your mind and help you manage your vehicles in the most cost-efficient manner possible, we have prepared an e-book called "How To Manage The Life-Cycle Cost of Your Fleet". Click on the link below to view & download it, and then apply the knowledge you gain to your daily fleet operations!
Get the E-Book ⇒ Click here!