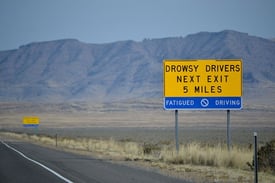 What happens on that summer road trip after you run out of things to do? First, consider our 5 tips for enjoying your summer road trip, then consider what will happen when you get sleepy, because at some point you will get drowsy. The National Sleep Foundation notes, "1 out of 10 drivers have fallen asleep at the wheel in the last year." Keep reading to learn more about how to stay safe on the road this summer.
There are a lot of misconceptions about driving drowsy such as drinking caffeine. People who try to use stimulants to keep themselves awake for long periods of time while sleep deprived are likely to have "micro sleeps". Micro sleeps are four to five second naps, and when you are on the highway, traveling around 60 mph can almost cover the length of a football field.
Here are some warning signs to be aware of:
Yawning




Having difficulty focusing or keeping your eyes open

Drifting out of your driving lane




Missing traffic signs or highway exits
If you feel yourself starting to drift off while you are driving, remember you have other options:
Take a nap at a rest stop or on the side of a road

Call family or friends to come pick you up

On long drives with others, take turns driving

Get a good night's sleep
For more information on drowsy driving click here. From everyone here at CARITAS Vehicle Services we wish you a summer full of safe driving.
We hope these tips help to keep you safe... if your organization needs more information about ways to address drowsy driving, please do not hesitate to contact us at (414) 771-7030 for more information.