4 Safe Driving Tips for the 4th of July Holiday Weekend!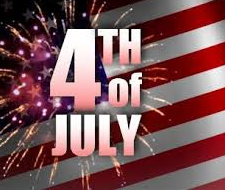 The Fourth of July weekend brings thoughts of hotdogs, fireworks, and family fun, but what people don't think about are the dangers on the road that accompany it. The National Safety Council (NSC) has released its predictions for fatalities and injuries caused by auto accidents during this holiday weekend and the numbers are sobering. The NSC is projecting the highest number of major auto accidents during a 4th of July weekend since 2008 with an estimated 409 fatalities and 49,500 serious injuries.
Driver Safety is our highest priority here at CARITAS Vehicle Services, so we wanted to pass along a friendly reminder of
four safe driving tips
for this Fourth of July weekend.
Make sure everyone in the car is wearing their seatbelt

Remember the speed limit is the limit
Avoid any distractions including: texting, loud radios, and distracting passengers.
Take advantage of taxis, private cars, and rideshares in order to avoid drinking and driving

Click here for the NSC's full article.
From all of us here at CARITAS Vehicle Services, have a fun and safe Independence Day!