Now you no longer have to worry about this happening to you...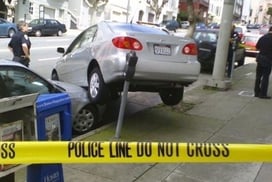 Have you ever had a hard time parallel parking?... I know I sure have! Luckily, car companies have now developed new technologies that will guide you (and me), carefully and accurately, right into that perfect parallel parking spot, which in the past you would try to avoid.
Here are a couple of new features that can help eliminate some of the daily stresses of parking:
Automatic Parallel Parking - This feature will maneuver your car into a feasible parking space, positioning you to only having to gently brake and pull forward slightly with minor adjustments.
Back-Up Warning System - When you shift into reverse, sensors on your rear bumper will scan behind your vehicle for objects and will alert you with a vibration, sound, or image. This feature is very helpful to detect small objects that cannot be seen below your rear window.
To watch a brief fun video on just how amazing these new technologies are, just click on the link the National Safety Council, where you can also read about these new features that are now available to you, that can make for a more enjoyable (and safer) driving experience.