What would you think are the 3 leading causes of car accidents in America?
Here are two hints... all 3 causes are human behaviors, and all are completely preventable.
Below is a graph from the National Safety Council, which compares two images of activity in the human brain; one is an image of a person's brain while driving alone, and the second shows how the brain is affected when a person is driving while listening to someone talking on a phone.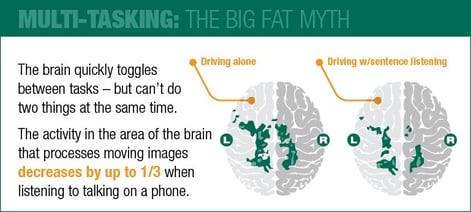 A lot of people believe they can do multiple tasks at the same time just as well as if they were to focus on doing just one.
But this graph and every recent car accident statistic shows, that this belief is not only impossible, but also very dangerous to your safety, and to the safety of others.
So, to find the answer to the question above, click on the link here Top 3 Causes of Car Accidents in America to read a brief article by Michael Pines, an accident and injury prevention expert in San Diego, who's on a campaign to end senseless injury, one blog at a time.