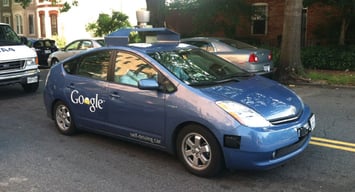 The cars of the future are here! At least they will be in the coming decade. Google is paving the way for autonomous car technology with its fleet of Toyota Prius hybrids. The cars have recorded a combined 700,000 miles with few reports of accidents, and each accident that occurred was the result of human error from the other cars involved. Many of the latest car models already offer several autonomous driving features including:
Adaptive cruise control: adjusts cruising speed based on traffic flow.

Blind spot detection: warns the driver when nearby vehicles that can't be seen by the side view mirror are in range of the car.

Emergency brake assist: detects critical traffic situations and applies braking when needed.

Lane departure warning: alerts the driver before their vehicle is about to leave the lane.
By 2016, the luxury electric vehicle (EV) manufacturer, Tesla, expects to bring their autonomous vehicles to the market and Mercedes- Benz and Nissan expect to sell theirs by 2020. So what are the potential benefits to your vehicle fleet?
Increased Safety

Potential for Fuel-Efficiency Gains

Enhanced Productivity

Building a Fleet on Demand
Learn more about these autonomous cars and read the full article here.