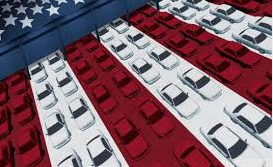 You'll probably find this hard to believe, but "American-made" autos are quickly becoming a thing of the past unless something changes. As the U.S. auto industry becomes more globalized, fewer and fewer cars meet the standard to be labeled American-made, and today there are only

seven

that make the list. I found this a bit shocking, so I did some digging to find out just who came up with this list and how are they defining "American-made?"
What I found is eye-opening. According to the "American-Made Index," created by online auto sales megasite, Cars.com, the number of American-made cars has plummeted from 30 to 7 within the past five years. The good news is that the percentage of American consumers who will only consider American-made for their next car purchase is on the rise. For 2015, the seven cars that are on the American-made list are:
2015 American-Made Index Rank
1. Toyota Camry

2. Chevrolet Traverse
3. Toyota Sienna
4. Honda Odyssey
5. GMC Acadia
6. Buick Enclave
7. Chevrolet Corvette
Sources: Automakers, Automotive News, National Highway Traffic Safety Administration
So, why do so few cars make the list? Read the full article by Cars.com here.