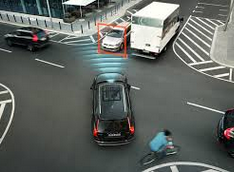 Vehicle Management update! If keeping your drivers safe is a high priority, then you'll be interested in learning about some of the new safety technology that auto companies are introducing for the 2016 model year. Let's consider several General Motors 2016 models for Chevrolet, Buick, GMC, and Cadillac. These GM brands will offer 22 improved active safety technology features. The improvements will assist drivers in critical situations. "Our comprehensive safety strategy of helping customers before, during and after a crash continues," said Jeff Boyer, vice president of GM global vehicle safety. Examples of some of these safety features include:
City-Speed Front Automatic Braking: This feature will assist you in low speed areas when a car in front of you stops, and you haven't begun to apply your brakes. For example, if you are driving in a neighborhood and traffic comes to a stop some ways in front of you, but you don't see this, the automatic braking will bring your vehicle to a stop for you to avoid a collision.
Front Pedestrian Braking: This system will apply the brakes in case a pedestrian was to unexpectedly walk in front of your car. In a similar example, if your car is coming up to a traffic light, and you become distracted, the pedestrian braking will apply your car's brakes before you even realize the need to do so.
Rear Camera Mirror: The new camera mirror feature provides drivers with a wider, less obstructed view. This is beneficial for backing up or maneuvering in high-traffic areas.
Night Vision: This feature provides an infrared view of the area lit beyond. This is an interesting feature in that it will alert you, as you drive at night, to pedestrians and animals that you may not see when just using your headlights.
Curb View Camera: This camera provides a driver with the view ahead, in the center-stack display. For situations such as parking, the display will help the driver avoid collisions with any objects, like a curb, a pole, or other parked vehicles.
You can read about the new safety features in Automotive Fleet's article here.