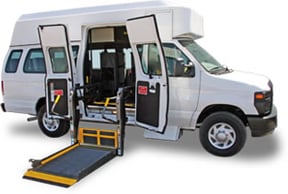 Most people consider the initial cost of purchasing a vehicle, however not everyone thinks about the potential savings when an individual tries to resell their used vehicles. Vehicle remarketing is an important part of your vehicles Life-Cycle-Cost. An experienced fleet manager can handle all of the different steps of the remarketing process such as: coordinating used vehicle pick up, establishing a fair market value, and determining the best channel for resale. How do you determine the value of your vehicle and how much time you will spend with this remarketing process? The following story is one example of when a van recently sold for much more than expected, highlighting the importance of professional vehicle remarketing.
Earlier this year, we sold a para-transit minivan through an auto auction with services that include nationwide on-line internet bidding from used car dealers across the country. A brand new para-transit minivan with a wheelchair lift would cost over $40,000 dollars. Based on the detailed condition report we received from the auction, and our market research, we hoped the minivan would sell between $6,000 and $8,000 dollars. Our client was not so optimistic to them it was a old worn out vehicle that wasn't used much. Since this was their first vehicle given to Caritas for remarketing, they were apprehensive about what Caritas could do that they couldn't do on their own. In the past, they would trade to a new car dealer, run an ad on Craigslist, eBay, or put a For-Sale sign in the window. Therefore, our client was anxious as to when it would sell and for how much. Caritas will always make sure the auction calls us with the highest bid put a "floor" or "if bid (call us with the high bid of the day)" so we have final approval. If we think the highest bid for the vehicle. If we think the highest bid in the week is too low, we will hold and run the vehicle in the next week's auction.
As this unique para-transit vehicle was going through the auction, we received an "if bid" of $14,600.00 (double our expectations). We were surprised, so we double checked with the auction to make sure this was not a $1,400.00 low-ball bid or that someone may have misplaced a decimal point. As it turns out, the $14,600.00 was legit and the actual buyer was an "internet-bid" from a buyer over 2,000 miles away. Sometimes, we have great days at the auction. In this case, the nationwide auction access gave Caritas and our client exposure to thousands of buyers, and one of them had a real need for this unique vehicle.
The following are a few other important requirements of the remarketing process:
Having a Dealer license
Experience at auto auctions
Accurate real-time data for evaluating the vehicles
Representing the vehicle as an individual asset
Maximizing the vehicle's best value
While the story we highlighted today is a special case, when it comes to vehicle remarketing, working with a specialist can help save money, time, and provide peace-of-mind to the individual looking to resell their used vehicles. For more information on how Fleet Services can help you with remarketing your company's vehicles click-on the link below.