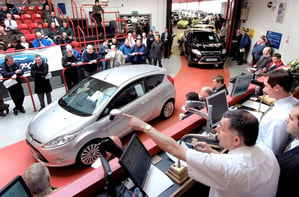 When computing the life-cycle cost of a vehicle,
deprecation is the single biggest fa
ctor to keeping the
cost low. Depreciation should be on a fleet manager's mind or on the mind of anyone who regularly buys new cars. According to Phillip Reed, senior consumer editor at Edmunds.com, a vehicle can lose 30 percent of its' value in the first year and as much of 50 percent in the first three years.
Given these numbers, it is important to look at what factors can affect resale value and ultimately vehicle depreciation.
The top three factors of vehicle value are: what you drive, how you drive, and how you sell
What you drive: Some makes and models hold their value better than others. Choosing a brand with historically high resale value can have a big impact on what it will be worth later on.
How you drive: The condition of a vehicle is greatly effected by how you drive and maintain it. The difference between a 'clean' well cared for lower mileage vehicle with a documented service history can be worth several thousand dollars more than a vehicle with dents and dings and no documented service history.
How you sell your vehicle: Depending on how this process is handled, it can have a huge impact on the price received. By trading in your vehicle to a retail dealer, you are getting the bid of one used car buyer with no competition for your vehicle. The dealer is not motivated to compete for your used car . . . he has a monopoly. In the fleet world, it is usually advantageous to send a used car to a national auction network

,

where the vehicle will be seen by dozens of dealers competing to buy it, which drives the price to the highest possible level.
Beyond those top three factors, the value of a used vehicle is also effected by the following:
Geogrpahy
Convertibles are tougher to sell in cold climates

Big all-wheel drive pickups are not as popular in warm climates
Color
Stick to the primary colors like blue, white, silver, and grays

Browns, oranges and purples take much longer to sell
Options
Some features add value like automatic transmission, sunroof, leather seats and all-wheel-drive

Personalizing your car with aftermarket accessories generally lowers a car's market value
As you can see, determining how to obtain the highest resale price for your used cars is more complicated than many people realize. For companies that operate 30 or more vehicles, this is an important reason to conisder outsourcing fleet management to a professional vehicle management company.
Jerry Condon, Director
Fleet Services, Inc